Cosby Methodist Church
Park Road, Cosby, LE9 1RN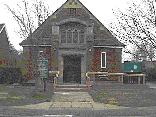 COME, CELEBRATE and WORSHIP with us.
Following advice from from the Methodist Church and Government, we will not be holding Services or meetings for the foreseeable future.
We can join in worship on line, or download a service to help us in our spiritual journey from the Methodist Church. .
Our friends at Family Friendly Churches are offering, free of charge, weekly prayers, address and a couple of hymns as videos (with words and music) for use within the home. These can be found here.
If you would like to request prayers, please just give basic information (eg first names), and be sure that permission has been sought for prayer to be requested. The information will only be shared by four people in the church's prayer circle.
Our contact is info@cosby-methodist.org.uk
Cosby Methodist Church is part of the Leicester, Trinity Circuit.
We can be found in Park Road, Cosby.
Our Minister is Rev. Fran Rhys. She can be contacted via the website.
More about Cosby Methodist Church
Services are held at 10:30 am and 6:00 pm on Sundays. - See Visiting Preachers page for details.

At present we have no Junior Church, but please contact us if you would like to your child to attend.

Girls Club is held on Tuesdays from 6:00 pm until 7.30 pm for any girls over 5.

The Ladies Bright hour meets every other Thursday at 2:45 pm

All are welcome.

Contact us at info @ cosby-methodist.org.uk (no spaces)

125th Anniversary celebrations in 2011-12 and pictures.

Pictures of Harvest Festival 2012

Pictures of Harvest Festival 2011

Pictures of Plant and Cake Sale 2008

Pictures of Harvest Festival 2006

Updated 18th March 2020