Our News
We have just completed a ramp to the Church.
Click on the picture to see a full size picture of the church.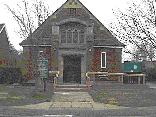 The photo was taken by Philip Christie, one of our young people.
From the Circuit newsletter.
"Those of us who went to Launde Abbey in June enjoyed a pleasant afternoon of fellowship and meting friends from around the circuit. A lot of hard work had gone into this event and it was greatly appreciated.
It has been very quiet at Cosby this summer with the Ladies Bright Hour closed for July, also the Girl's Brigade and Sunday School. Now things are gearing up again. Bright Hour is now up and running and the Sunday School started with a brekfast on September 4th. The children brought something from their holidays to show us.
We met with Blaby during the summer for evening worshipand on 28th August we attended a Churches Together in Cosby service at the Baptist Church, now known as Cosby Community Church.
The Circuit Service at Christchurch on 4th September, although not very well attended, was interesting in that we had copies of the new Methodist Hymnbook Sampler to try out, and sang a few items from it.
September 18th was our Harvest service, and it was led by Mrs.Shirley Kendall. Gifts of tinned and dried foods were received for the Salvation Army"
Updated 30th September 2011